Brand Spotlight | Adobe on why piracy is a business opportunity
With insights from Richard Atkinson, head of the non-genuine segment and fraud prevention for Adobe Inc, we explore how Adobe Inc. has repositioned its fraud prevention to an arm of the business that grows revenue by creating new opportunities.
About Adobe
Adobe is the global leader in digital media and digital marketing solutions. Their creative, marketing and document solutions empower everyone – from emerging artists to global brands – to bring digital creations to life and deliver immersive, compelling experiences to the right person at the right moment for the best results.
About Richard Atkinson
Over the course of the last decade Richard has built a customer-centric data-driven approach that drives over $100m in revenue for Adobe annually. His team is also responsible for addressing over $2bn of fraud. Prior to his role at Adobe, Richard held senior security and anti-piracy roles at Electronic Arts and The Walt Disney Company.
---
Introduction
Over the past decade, Adobe Inc. has repositioned its fraud prevention to take if from (a) straight enforcement against counterfeiters and buyers of non-genuine software, to (b) an arm of the business that grows revenue by creating new business opportunity.

In this Q&A discussion paper we ask Richard Atkinson, head of the global non-genuine segment and fraud prevention at Adobe Inc., why he thought this repositioning needed to happen.

The result is food for thought for any company that assumes that online brand protection and fraud prevention is a matter for legal enforcement only.

We will cover:
What fraud means for Adobe
The reason Adobe has changed it its approach to fraud
The value of data in driving change
How Adobe handles fraud today
The lessons that other businesses can consider taking on board
---
The journey Adobe has been on
Q. Richard, what exactly is the issue you have with fraud at Adobe?
Mainly we're concerned with product hacking, counterfeiting, payment fraud and customer case care fraud. One of our biggest challenge comes from organisations who 'crack' our software to remove copy protection features and then sell illegal, unlicensed copies online – predominantly through marketplaces like eBay. A lot of this non-official software doesn't have the functionality the buyer expects. It's also usually laden with malware, so its bad for the people who buy it, and bad for our reputation too.
Q. Before the approach changed, how did you handle this previously?
We did what most businesses do right now. We tracked and enforced against people carrying out fraud. And against the people who buy non-genuine products. We characterised all these people – the criminals and the buyers alike – as people who were trying to steal from us.
Q. How have things changed?
The main thing that's changed is that we now treat the people who have brought fraudulent versions of our software differently. We don't treat them as people who are trying to steal from us. We treat them as customers. Or more precisely, we treat them as customers that just went to the wrong place and paid the wrong person.
This has been a massive shift for our company.
Q. Why do you think this was such a big change?
Before, we were assuming that the buyers and consumers of non-genuine software were the bad guys. They had done something wrong.
The turnaround came we started to recognise that it was us who was to blame. We had to confront the issue and say to ourselves…'we have failed these people, we didn't put the right options in front of the, we didn't remove the fake versions quickly enough, and it is up to us to put it right'.
The reasons behind Adobe's shift
Q. Why did you decide to make the change?
Two reasons.
Firstly, there was the realisation that not all of the people who buy non-genuine software are aware of what they are doing. In fact a lot of them are shocked when they find out they've been duped. That creates a massive opportunity for us to treat those people and businesses right, help them out, and convert them into legal users of our software who will likely remain with us for a long time to come.
Secondly, we saw that the counterfeit market was actually a massive opportunity for us to judge where demand is – demand we potentially haven't tapped yet – and then convert that demand into new revenue for our business.
We thought about it: Do we want analyse customer demand in new ways? Uncover new business opportunities? Convert illegal trade? Grow our business? Create a new sense of loyalty from which most customers will never turn back?
Of course the answer to all the questions was yes, so we started to make big changes.
Q. How does the counterfeit market show you where demand is?
Before I worked for Adobe I worked for the Walt Disney Company. I learned some valuable insights there.
One of the biggest was when we discovered that there was massive demand for one for one of our US TV shows in France. We didn't have a distribution deal there, but millions of people were downloading it anyway.
Following this realisation we struck a deal for only online distribution that was an instant multimillion dollar success.
The message to me was clear. Tracking illegal activity isn't just a matter for the legal department. It's an opportunity to spot trends and turn them into new revenue and growth. I think all companies, including Adobe, can learn from that.
The value of research and insight
Q. Can you tell us more about the research and data you have used to drive your new direction at Adobe?
The data we use comes from three main sources.
Firstly, we look into buyer behaviour in the software market in general. We've carried out research with Microsoft, for example, (see figure 1 – this is a slide that was on the vide0), that shows there is strong evidence that in mature markets there is what we call a very 'strong inclination to pay'. It's slightly different in markets like China, where the culture is that when you buy hardware, the software comes with it, and you're not going to pay for anything. That's a cultural issue and a debate for another day.
But the main message is that we have a very large audience of people who want to buy the genuine article, and for whatever reason they end up with something else.
Secondly, we have done deep research into our own products and people's attitudes towards them. For example, we worked closely with our Photoshop team. This has shown us that users of non-genuine Photoshop software are some of the highest value 'customers' we have in the creative space by various criteria, including their propensity to recommend Adobe software with their peer groups.
Again the message to me is really clear: it is completely wrong to dismiss buyers of non-genuine software as having no potential value to the business
Thirdly, we have used the data we are able to gather from the brand protection software we use, which is Talisman from Incopro. Talisman scans global marketplaces on a massive scale. This tells us two things. First, it tells us what's happening on the supply side – i.e. it tells us what the bad guys are doing. But secondly, and just as importantly, it tells us where demand is developing all the time, both in terms of geography and for new products and releases.
This is incredibly useful insight that can drive a lot of ort decision making. We'd be crazy not to use it.
The way Adobe manages piracy now
Q. So with all this insight and new level of understanding – what does this mean for the way you manage piracy and fraud prevention now?
There are three main things we do:
Focus on "blocking" bad things from ever becoming available
Enforcement/Removal only as a secondary approach
Joint Business and fraud prevention platform engagements
The first is exactly what you would expect: fraud prevention. We look online for things how-to piracy videos, how-to blogs, piracy product keys, direct downloads and peer-to-peer links. We monitor and enforce against all that.
The second piece of activity you would also expect: online enforcement. Here we're focused on looking at how the problem is distributed – so we're scraping the internet, or more specifically marketplaces like Amazon and eBay, to find out where illegal software is available. We enforce against that too. Essentially what we're doing here is pushing the non-genuine software into the shadows, so that the legal version is the one that customers see when they come to make a purchase. Along with our fraud prevention effort, it's about preventing the problem from happening up front.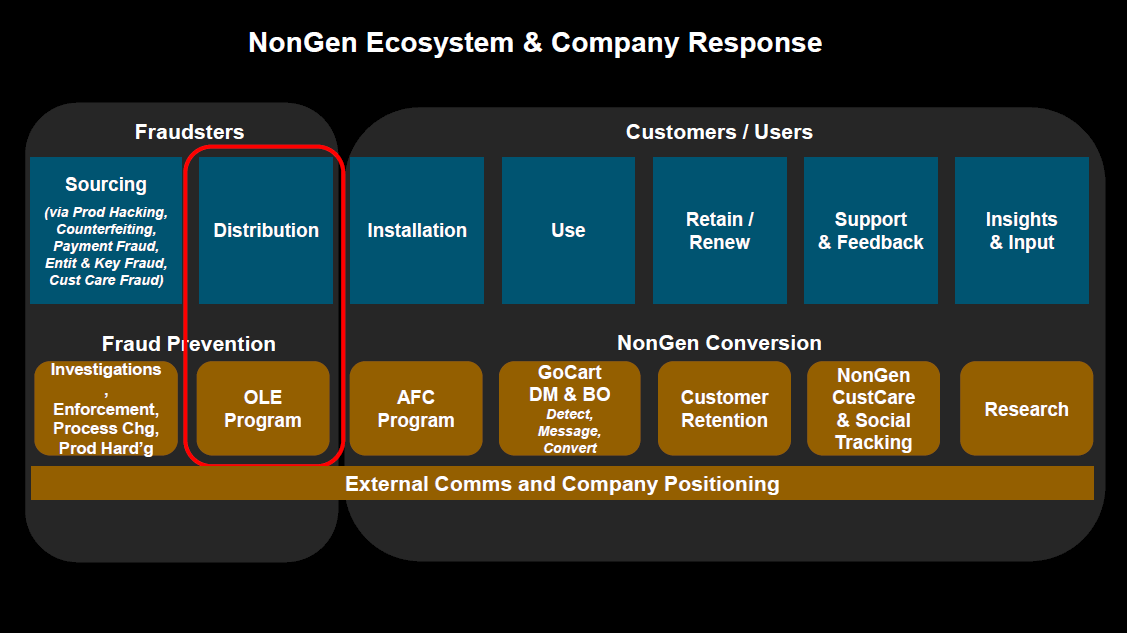 The third part of our approach – and I believe this is where we diverge from a lot of businesses right now – is that our fraud prevention and online enforcement efforts now link together with the rest of business. And by the rest of the business, I mean the core business that is responsible for growing revenue and making sales.
So when we see fraud in a certain geographic region – we don't just enforce against it, we work out how to fulfil a new level of demand we have so far untapped
When we see fraud in certain type of user – we don't just come down hard on those users, we work out why this happening and how we can service the needs of those users better.
And when see fraud affecting a certain product – we don't just work out how to stop it, we work with the data we are gathering to better understand what our market is, what people want from the product, and how we can make sure it gets to the people who want it most.
Bottom line – these days we never, ever have conversations about fraud in silos. We have holistic, all-Adobe conversation about how we turn that fraud into opportunity.
The message from Adobe
Q. What do you think the rest of the industry can learn from this approach
There's one more thing to add: this is not just about us. In many ways, whatever industry you are in, we all share the same customers out there.
I have made speeches many times that have talked about the size of the fraud that faces Adobe. In doing so I have revealed what many would regard as commercially sensitive information – but I believe it's well worth doing.
Ultimately, I believe there's a lot as a global business community that we can learn from each other. We should all be sharing our challenges and our best practice.
Because after all, we're all in this together.
---
At a glance – Adobe's current business strategy
To protect customers from being victimized
To convert users back to genuine products
To use data to capture ALL the demand in the market
To drive cross-industry understanding and best practices
---
Concluding thoughts – the view from Incopro
Key takeaways
Not just enforce
Not just protect revenue
But also grow their business by understanding their global market better and driving new revenue
Consumers are often well-intentioned – they want to experience your brand
Adobe's recognition that many users with non-genuine software are legally inclined and well-intentioned shows a greater understanding of online consumer behavior. These consumers are not pirates or bad actors but people who love the brand's products but have been duped into purchasing a non-genuine version. With the right strategic approach, these users can be converted (or reconverted) to customers and retained.
A business is stronger together
Richard spoke at length about his dedication to collaboration and working across business function. Brand Protection needs to be recognized as a business problem that touches all areas of an organization and is tackled as such. By pooling together the resources & insights and aligning with the wider organization, far greater goals can be achieved.
Tying Brand Protection and revenue generation together
We are seeing many businesses starting to recognize that Brand Protection and revenue generation are tied together, and we encourage more businesses to do so. Brand Protection is a source of growth and increased digital conversion – not just an activity undertaken by the legal team to protect intellectual property.
A source of business intelligence
Businesses hold massive repositories of data and intelligence that can help many organizations to see their business in a different light and make changes that will help them to pursue new avenues of growth – whether that is entering new markets where there is untapped demand or expanding to new digital channels adopted by their consumers.
The future: Fraud prevention instead of enforcement
Fraud prevention is the end goal for Richard's team and the wider business. This is where we believe businesses must focus their efforts in the future – enforcement is often playing catch up and will do little to protect a consumer that has already purchased a non-genuine product.
Become an INSYNC member
Join a global community of brand protection professionals and help us build a united front against bad actors. Together, we can protect consumers from online harms.
As a member, you'll be able to take part in our exclusive round tables and access all INSYNC content including surveys, newsletters, and webinars. You'll also receive early-bird invites for virtual and in-person events.